... into my bedroom.
I'm usually not very slobbish, but I have been keeping myself busy and tiring myself out, so my room got kind of ... messy ...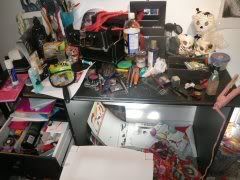 ... it's not too bad is it? :/
So as soon as I got home from school I got to cleaning it up. I had to stop after a while though, because we had delicious ribs for supper! I like ribs because I'm a CARNIVORE. Then I cleaned a bit more, but had to stop AGAIN because I was invited to my friend Maigyn's house. My room is not as clean as I would like it, but at least it's liveable in now.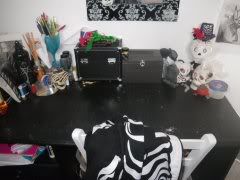 I'll clean it better when I get the chance. My New Years' Resolution was to keep it tidy! I have been failing miserably at that ...
At least I don't mind cleaning, as long as I can listen to music while I do it!
So I went to Maigyn's house, and Sarah, Ange, Camille, Becky, and Lana (who is my BFF&E (and if you don't know, that stands for Best Friend Forever and Ever)) were there as well. Lana and I showed them our favourite music video which makes us laugh EVERY TIME. Busta Rhymes - Break Ya Neck. He is one of my favourite rappers because of all his superawesome energy. Maigyn then proceeded to show us some weird videos of her being a pussy while getting her tattoo. Quite entertaining, actually.
When it was time to go home, I ended up being the taxi for Sarah, Becky and Lana because I'm the only one who bothered to get their drivers so far ... at least Lana has her learners. She's the only one out of the lot. It wasn't so bad though, I just blasted Lordi and did some headbanging to vent my 'anger'.