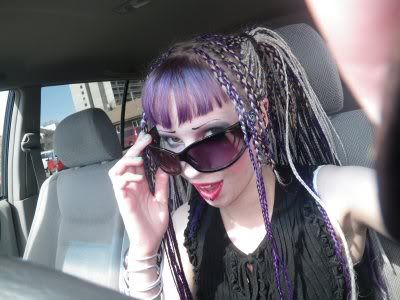 Heeey.
How are you liking my heavy blush and hot pink lips? Suits me, no? Maybe I should explain ...
I was asked to help with a family theatre project at my church called Studio Y?. They wanted to demonstrate the ridiculous-ness of addictions so they put on a fashion show and asked me to help out. I represented the addiction to candy.
I really felt and looked like a clown! Which makes me want to actually BE a clown even more! The other addictions were just as bizarre and creative ... it was a fun time. I apologize on behalf of my father for the terrible quality of the pictures ... oh Doug. We love him anyway sometimes.
| | |
| --- | --- |
| | Here we have the televison addiction, portrayed by Jen. I think it must have been SO hot inside that TV. |
| | HEEEEERE'S JOHNNY! |
| | Miss Hailey, the workaholic. NO FUN ALL BUSINESS ALL THE TIME |
| | Becky represents an addiction to texting, and I thought her hair and makeup looked so Dita Von Teese-ish and pretty. |
| | I'm afraid that my memory fails and I forget this person's name ... but she was addicted to working out. |
| | This is Alexis, the shopaholic. Her hair was like Scary Spice. |
| | I want to say her name was Samantha ... or at least I'm SURE it started with an S. Oh no I'm terrible! She had a caffeine addiction. She was also the makeup artist. |
| | I love the CD belt! This is Allison and she was addicted to music. |
And that was it for the fashion show. Studio Y? goes on with dances and skits and such, but I had to leave because me and Alex were going to see 'You're a Good Man, Charlie Brown' at the local theatre. I've already seen it but Alex hadn't, and he HAD to because I know so many people in it and they did such a good job! We hung out with the cast for a while afterwards then I went back to Alex's house with Torrance and we played Modern Warfare 2. Usually I can keep up with them points-wise, but not tonight. I was getting so MAD and we played through four whole rounds just because they thought it was hilarious to see me mad. Actually, I'm pretty sure it was hilarious. Around 2:00 we got hungry so we were going to go to IGA to pick up a frozen pizza, but IGA was closed for maintenance of some sort. GRRRRR. Make me even more mad ... so we settled for A&W, which is pretty decent because root beer is delicious. Then we watched James and the Giant Peach and good times were had by all.
THE END. and they all lived happily ever after! :D