100th post!! And Happy New Year!!
Last night was a blast!! I worked all day yesterday, kind of a bummer because I of course, was late to the party because I had to go home and fix my hair/make-up/clothing/whatever. I was slightly disappointed because my hair is too short for my dread falls ... which would have been much fun for the evening. Ah well, no sense in being upset about that though! I managed to still look fairly cute, I think. So after work and fixing myself up I went out to Boston Pizza to eat supper with Alex, Torrance, Romer, Shelby, Kayla, Don, and Naomi. By the time we were ready to leave it was already getting a little crowded with New Year's partiers ... we definitely avoided the bars because of said crowds ... not to mention expensive cover charges! Luckily, we instead managed to find a liquor store that was still open and we picked up a couple bottles of goodies, then went to Romer's house to play Little Big Planet and Black Ops. Naomi and Kayla are first-person-shooter virgins, which was good for me, because although I am quite familiar with first-person-shooters, I'm not that good at them ... but I finally had my chance to OWN at Black Ops! Muahahaha. Then I played again against Torrance and failed miserably ... it was fun while it lasted.
The original plan was to go and watch the New Year's fireworks, which usually start at midnight exactly ... so we left to go to them at 11:30. Romer and I decided to roll down the snowy hill for some reason ... we were freezing after that, but I say it was worth it! So after a freezing walk around to the resevoir in the deserted park, breathing in sulfer-smelling smoke-ish stuff, we realized that our small town is waaaay to lame to actually have the fireworks at midnight exactly, and we discovered that they began at 10:00 instead! It was a very pleasant and fun walk anyway ... albeit, chilly ... but that's my own fault and I have no regrets :)
We picked up candy and Space Balls and indulged for the rest of the evening.
This morning I woke up at Alex's house around 10:10, and we remembered we were supposed to be meeting the crowd from last night for breakfast at 10:00 ... we woke up Torrance and he went, but my head was sore from being so tired and I decided to go back to bed, and since Alex is my ever-loyal boyfriend, he stayed home with me and fed me bagels with cream cheese for lunch. The rest of the day was spent being lazy ... I got around to playing the Sims 3 and Epic Mickey for a bit (Christmas presents from Alex and his mom, haha). And now I'm in bed, about to play more Sims ... it's an addictive and guilty pleasure of mine (but I know I'm not the only one out there!) ;)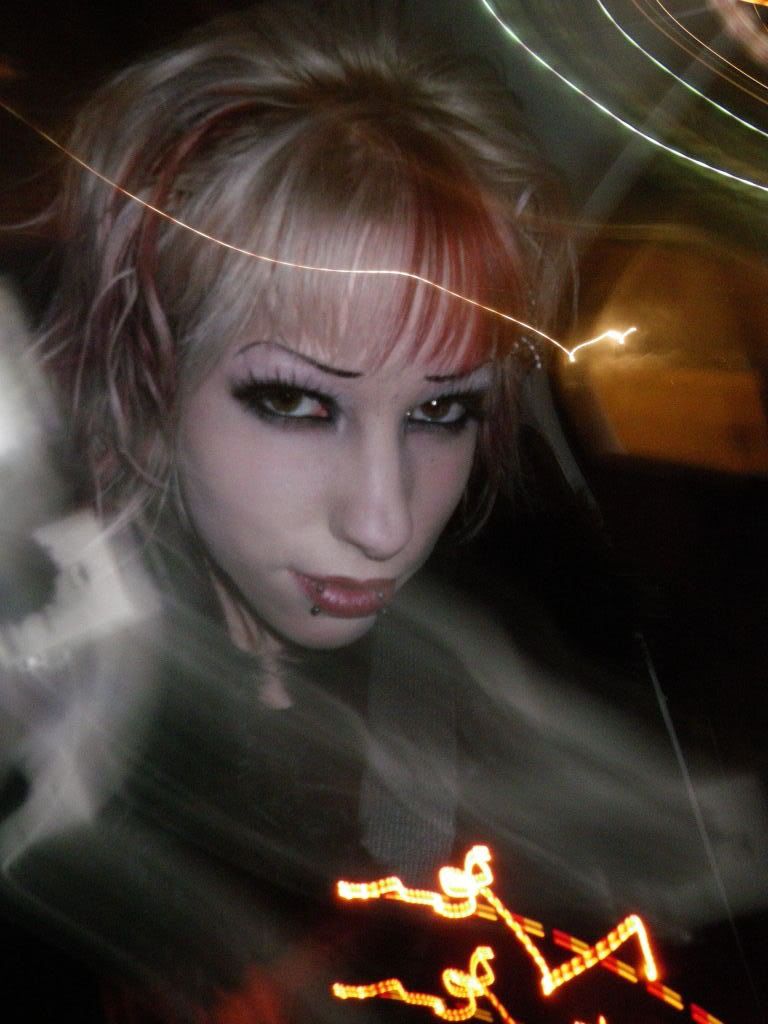 I took this picture on my way to Boston Pizza ... I'm not sure I managed all that, maybe I used my skills as an alien from another planet ...